Pocket Edition Minecraft players may have a little trouble sorting out how to create a server, as the menus have a different setup than the main game. For those who want to play with friends in this version of Minecraft, getting a server up and running is a must. Read more to learn how to create a server in Minecraft PE!
Creating a Server with a Pre-Made or New World
This method will allow players to turn one of their pre-made worlds or a new world into a server. To do this, follow these steps:
Click Play
Edit the Settings of the Pre-Made World or hit Create New World
Open the Multiplayer tab
Turn on the specific Multiplayer Option(s) neccesary
The three options in the Multiplayer menu are Multiplayer Game, Broadcast to Xbox Live, and Broadcast to LAN. All players will want to turn on the Multiplayer Game option, the other two options are not absolutely necessary. The Broadcast to Xbox Live will appear if the player is logged into their Xbox account, which will allow the player to stream their Minecraft content to their friends on Xbox Live. The Broadcast to LAN, however, will make playing on a server with friends easy as long as they are all on the same WiFi network.
Related: Best Minecraft PE Seeds of All Time (November 2021)
How to Join or Add Friends to a Server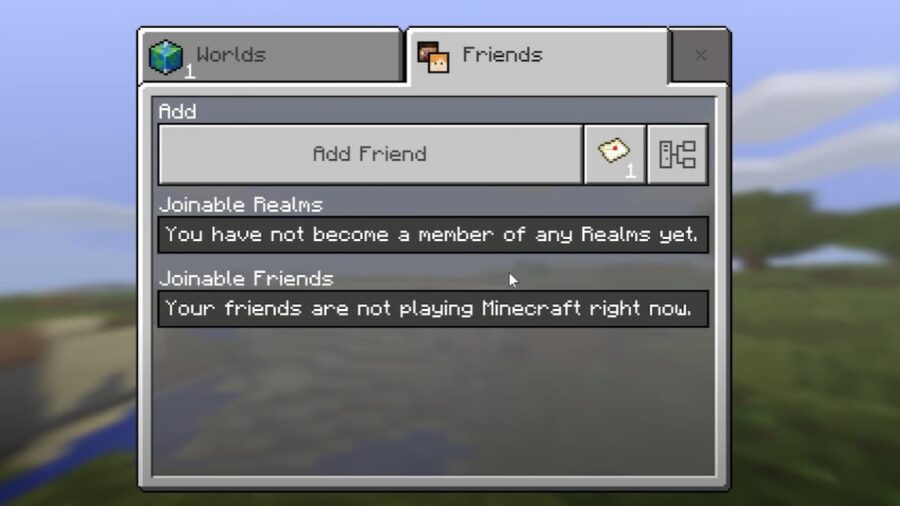 Once the server has been set up and running, friends of the server creator can join the game through one of two methods:
How to join a friend's Server on LAN
Click on the Friends Tab
Select the specific friend to join under the Joinable Friends section
Click Play
How to join a friend's Server on External Server
Click on the Friends Tab
Click the Add External Server icon to the far right of the Add Friend button
Enter the Server Name and Server Address (this will be their I.P. address)
Click Save
Leave the Add External Server tab and the server should be added to the Joinable Friends section
For more Minecraft content, be sure to check out Best Realistic Minecraft Mods on Pro Game Guides.